Winchester Family Dental Staff
Hui Huang, D.M.D.
A highly regarded practitioner, Dr. Hui Huang is unique in that not only did he receive his dental degree from the Boston University School Of Medicine in 2005, but he also received his MSc.d. and his PhD. from that esteemed institution. An honors graduate, Dr. Huang received many awards for excellence.
"I emphasize comprehensive, gentle care with attention paid to every detail of each treatment plan. I pride myself in providing state-of-the-art care through my continued participation in post graduate educational courses. In our practices, we stress preventive dental care, using world class technology on facial balance and esthetics. Your overall oral health is our main concern."
When not practicing dentistry, Dr. Huang enjoys swimming, travel and ballroom dancing.
Olga Shemanyuk, D.M.D.
"My philosophy is simple. I will listen to all of my patients needs and provide them with the best dental care available. I understand that many people may feel anxious about going to the dentist, which is why I make it my goal to make their visits with me as stress free and comfortable as possible. In order to provide my patients with the very best care, I am committed to keeping up to date in the field of dentistry by attending numerous continuing education courses every year."
Peter Itkes - Office Manager
Mae Feng Office Administrator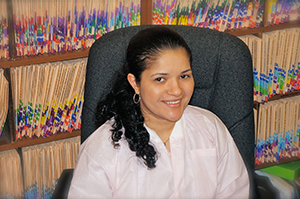 Adriana - Patient Coordinator
Solange Moura Dental Assistant
Karen - Assistant